Command-Line Resource Editor For 32- and 64-Bit PE Files
Resource Tuner Console is a command-line tool that enables developers to instantly change different resource types (version numbers, icons, images and strings) in large numbers of compiled 32- and 64-bit EXE, DLL and RES files from the batch files. This console resource editor allows creating a reliable and repeatable process for updating and customizing resources during the final stage of the build process.
Save Time by Automating Resource Changes
You can launch Resource Tuner Console from a build script and tell it to stamp an exe with additional properties. As a command-line tool, it can be run from both batch scripts and other Windows-based applications.

How to Get Started with ResourceTuner Console?


Step by Step Guide to Using RTC Scripts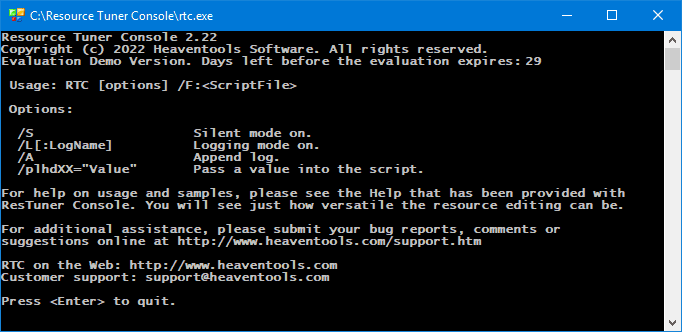 Fast Processing Speed and Automation Capabilities
Resource Tuner Console solves a lot of pains a software developer usually experiences when it's time to modify resources in compiled executable files. Stop wasting your expensive time patching the same resources over and over again. Automate the entire process and let Resource Tuner Console do the work for you. Add Resource Tuner Console to your build system and streamline product release processes.
Why Would You Need This Command-Line Resource Editor?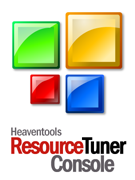 The idea behind the program is simple: a lot of an application's resources can be changed AFTER compilation, at the post-build stage of development. So why bother with resources at design time, when you can fine-tune all your icons, strings and version numbers at the post-build stage along with code signing and adding security protection.
If you have to edit resources in multiple executables then you have probably dreamed of being able to automate this task and turn it into a quick job that is activated by just one click of the mouse. Our powerful and innovative Resource Tuner Console software does just that. It will take all the pain out of the patching process, and customize your single source .EXE file with new icons, images, custom strings, version variables, manifests, and more.

Feature List

Solutions: When You Really Need Resource Tuner Console

FAQ: Get Answers to Most Common Questions
Buying Choices:
What Can It Be Used For?
Rebrand your applications with new icons, bitmaps, strings and manifests.
Modify the version number fields of EXE, DLL or RES files and prevent otherwise unnecessary builds.
Fast, accurate, flexible and easy resource adding, copying, duplication, modification, and much more.
Change resources in one file or in thousands of files in multiple folders.
Prepare multiple branded OEM versions of your software.
User Advantages
Less time, less work, great results.
Set up an automated way to apply your changes: the more things that you can automate makes life simplier and gets you closer to being error free.
Create a repeatable process for customizing resources.
Once you have written a script, you can reuse it over and over again.
Process multiple executables at once.
Easily integrates with your build system.
Benefit from first-class Technical Support.
We Offer A Free 60-Day Trial


Resource Tuner Console runs on all versions of Windows from 2000 and XP through 8, 10, 11, and Server 2022.

Resource Tuner Console Overview (PDF) 228 Kb
Resource Tuner Console comes with the examples that explain basic functionality and demonstrate many of the features available in Resource Tuner Console. Check out the samples to get an idea what Resource Tuner Console can do for you.
Break Out of a Rut with Resource Tuner Console!
Resource Tuner Console offers exceptional value for money and delivers functionality that reaches far beyond its price tag. Discover how you and your organization can benefit from this exciting program. Start tuning your applications today! Purchase a Resource Tuner Console license now for US$ 199,-, and make resource editing easier and faster.