Resource Tuner: Feature List

Resource Tuner offers an elegant solution for developers, software skinning and customization artists, translators, and IT professionals seeking effective resource editing within compiled 32/64-bit executable files. With its rich set of features, Resource Tuner empowers users to make modifications without needing to recompile the source code.
The trial version of Resource Tuner is a fully functional time-limited demo with a few restrictions. The licensed version of Resource Tuner includes additional functions described at the bottom of this page. Both versions include these features:
Editing Resources of Portable Executable (PE) Files
Working with 32- and 64-bit Windows executable files such as .EXE, .DLL, .MUN, binary RES, Device Drivers (.SYS, .ACM), ActiveX Controls (.OCX), Delphi Libraries (.DPL and .BPL), XP Visual Styles (.MSSTYLES), Control Panel Extensions (.CPL), Screen Savers (.SCR), and any other win32 executables.
Full Unicode support.
Multilingual Interface: work in the language which is most comfortable for you. Resource Tuner is currently available in English, Español, Deutsch, Dutch, Français, Finnish, Italian, Japanese, Korean, Polish, Portuguese, Russian, and Swedish.
Take a look at some of the best features in Resource Tuner that help you edit files easier and faster:

Feature Tour

Tutorials and How-to's

Screenshots
Key Features
Resource Viewer and Editor:
View and edit a wide range of resource types within an executable file, including text, graphic, and binary resources such as version information, message strings, icons, PNG, JPEG, AVI, XML, Image Lists, Type Library, CAB, and more.
Users can modify these resources directly from the interface or replace them from external sources.
Wizard-Style Editing:
Enjoy a user-friendly interface for resource adding and editing, requiring no programming knowledge.
You can navigate easily through the Delphi forms, RCData, and objects, and view their contents (Image Lists, Strings List, Glyphs, Bitmaps). There's a very strong emphasis on peeking inside Delphi applications and packages.
Resource Extraction:
Extract resources from executable files and save them as separate files for reuse.
Efficiently save multiple resources at once, eliminating manual repetitive tasks.
Resource Searching:
Utilize a powerful search feature to quickly locate specific resources within a large number of executable files on your computer.
Effortlessly find and edit resources without the need for manual browsing through numerous files.
Resource Filter:
Efficiently locate specific types of resources within executables using the Resource Filter.
Customize the view by selectively displaying only those items that match user-defined conditions.
Application Manifest Wizard:
Simplify the process of adding, editing, or replacing Theme and UAC manifests in executable files.
Ensure compatibility with Windows User Access Control and DPI Awareness.
Resource Optimizing and Error Checking:
Automatic resource optimization, error checking and repairing upon opening files.
Enhance resource integrity and elevate application performance.
Integrated UPX Unpacker:
Open and modify files packed with the UPX compression algorithm.
Access and manipulate UPX-packed files seamlessly, even without prior knowledge of compression.
Expandable! Support for custom plug-ins to perform any startup processing.
More features — pick up your free trial to see them all!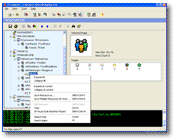 Windows executable files can have all sorts of resources buried within. Resources include the application's graphics, icons, cursors, menu, dialog boxes, and text. Resource Tuner enables you to get at them to either modify, save or delete them. You can view these resources, even playing sound and video files. You can have a lot of fun with this, especially when you start experimenting with Windows files.
Workspace
Recent Files Tracking: Easily manage and access recently opened files for quick reference.
Favorites List: Compile a list of favorite files for easy access.
Windows Explorer Integration: Optionally integrate Resource Tuner with Windows Explorer for enhanced usability.
Customizable Layout and Colors: Adjust the workspace's layout and colors to suit your preferences.
Backup Creation: Automatically generate backup copies of the target file (default setting).
Log Pane: Keep informed about ongoing actions with the Log pane, which records commands and messages for each step of the process.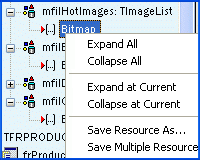 Resource Tuner offers a thorough look at all of the resources (bitmaps, icons, strings, dialogs, GIF, JPEG, PNG, PNG-compressed Windows icons, XML, Image Lists, Type Library, etc) in the compiled executable file. You can view and extract images, icons, sounds, animations — all you have found in your application — on your hard disk. That makes Resource Tuner a perfect resource grabber.
Don't take our words for granted, see

What Our Users Say.

Step-by-Step Guide Showing You How to Edit EXE And DLL Files
Start Tuning Your Applications Now!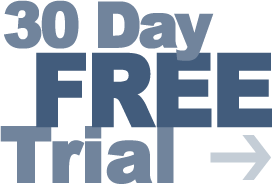 Give Resource Tuner a trial run for 30 days free! Once you try it, we think you will find it hard to go back to other resource hacking utilities. For maximum editing and inspecting power, purchase a Personal license now for $49.95. The Business license is available for $89.95.
Some functions are disabled until Resource Tuner is registered:
When in trial mode, Resource Tuner doesn't allow for saving all resources to disk at once.
The demo watermarks the resulting executables with a custom string inserted into the Version Info resource, such as

"Made with an unregistered copy. Register to remove this message"

.
The demo is limited to the number of days you can use the software.
Buy Now And Unlock Additional Features

Resource Tuner
Personal Use License

$49.95


Resource Tuner
Business Use License

$89.95
More Options For Power Users
Resource Tuner is the PE Explorer spin-off product that is used solely to edit resources in Windows programs. PE Explorer is the choice for anyone looking for more. Includes the Resource Editor, Section Editor, Disassembler, Dependency Scanner, and the Export/Import Viewer.