All Products

EurekaLog Exception Logger
Don't waste your time with remote debugging your application: now EurekaLog debugs it for you. It will send an email message on every exception thrown, with a log file and screenshot attached.
If you have a bug that multiple users report, but this bug cannot be repeated, no matter how hard you try, EurekaLog is about the only solution for this problem. With EurekaLog, now you can code a detection method that triggers a notification when the bug happens.
With EurekaLog, your application is able to catch all exceptions and memory leaks directly on the end user PC, and generate a detailed log of the call stack with unit, class, method and line-number information. All you need to do is ask your users if they can replicate the bug. If yes, you can have them replicate it and send the error report to you or to a bug-tracker, and finally find out what triggers the bug.

WATCH VIDEO TUTORIAL
An example of the enhanced "Error occured" dialog: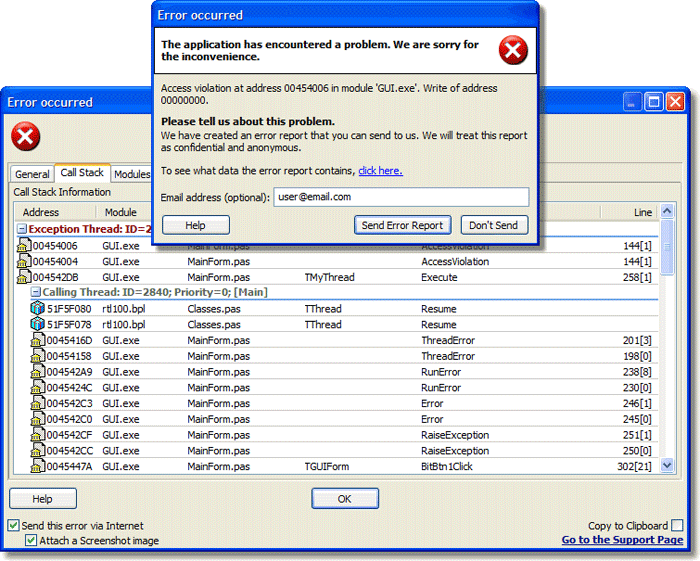 EurekaLog does not affect the performance of your application, as it only executes when an exception is raised. EurekaLog increases the compiled file size by about 300Kb (this space is needed to store the compressed debugging information).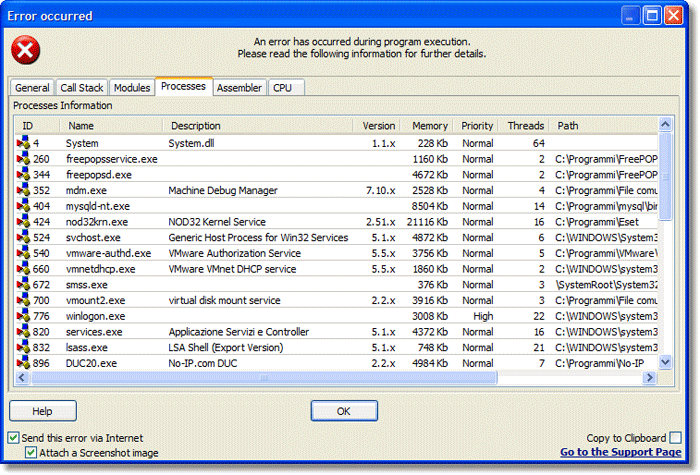 We Offer A Free Trial Version: Try The Software, Risk Free.

EurekaLog .NET Edition requires the .NET Framework 2.0 or higher, and is compatible with Visual Studio 2005, 2008 and 2010. EurelaLog.NET works on all modern Windows platforms, from Windows XP to Windows 7.

VIDEO TUTORIAL
Buying Choices: FULL MONEY BACK GUARANTEE

EurekaLog .NET Edition
Single User License

$99.00


EurekaLog .NET Edition
Company License

$449.00
All EurekaLog versions are covered by 60-day money-back guarantee.
If you are not satisfied with your purchase for any reason, just ask for your money back and you will be refunded.
For Delphi and C++Builder Developers:

EurekaLog VCL Edition is compatible with all Delphi versions from 3 to XE, and with C++Builder from 5 to XE. EurelaLog works on all Windows platforms, from Win 95 to Windows 7.

VIDEO TUTORIAL
Buying Choices: FULL MONEY BACK GUARANTEE

EurekaLog Delphi Edition
Single User License

$99.00


EurekaLog Delphi Edition
Company License

$299.00
Loaded with Features
EurekaLog contains all the features that you need in a bug resolution system:
Full integration with IDE
Fully customizable Exceptions Filters (you can choose style, behavior, messages, and more)
Fully customizable Exception Dialogs
Customizable message on every exception, with a log file and screenshot attached
Customizable HTML error page via HTML template
Upload attached files via HTTP/HTTPS and FTP protocol
Compatible with any EXE packers and protectors
Printable PDF manual