AWicons PRO: Icon Editor and Drawing Suite
AWicons PRO is a utility which is exclusively devoted to designing and editing icons, and has special features and tools designed to make quick work of small icon design.
AWicons PRO has a customizable interface and can quickly create stylish icons from your original designs or from imported PNG, GIF, BMP or JPG files. The icon editor fully supports Windows XP icons and all color formats up to True Color with alpha channel.

Personal License ... US$39.95
Business License ... US$60.00

Download a trial version of AWicons PRO

How to Order
SPECIAL OFFER: Get a Free AWicons Pro Business license with
every Icon Set purchased!
It has powerful library tools that can quickly pull images from your system and keep your icons logically organized. Through AWicons' library manager you can save, open and create libraries as well as add or remove icons easily.
AWicons PRO: Who Needs This Icon Editor?
You do, if you have ever:

Wanted to create icons by yourself


Wanted to keep your icons logically organized


Wished you could make your apps look better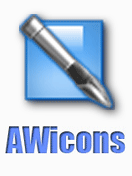 Free with Purchase of any Icon Sets! Check out The Professional Icon Set in the Vista icon style with over 250 different images, each in 6 sizes (from 16 up to 256 pixels).
If you need a command line option that automates the replacement of icons in program files and libraries, check out Resource Tuner Console.
AWicons PRO comes with a complete set of editing tools that can add distinctive effects like aqua, shadow and bevel emboss as well as modifiers such as anti-aliasing, multi-color gradient and transparency. It fully supports Windows XP true color alpha-blended icons.
AWicons edits icons using drawing and effects tools such as shadow, hue, saturation, 3D shadow, sharpen and more. Changing the opacity, brightness or format of an icon is easy through the drop down menu or tool bar.
The program is easy to learn and beats lots of other high costs GFx tools out there. Even if you have never edited icons before you will find it easy and entertaining to learn-by-play with its easy-to-use multilingual interface. Exciting editing possibilities make AWicons PRO a must have addition to Resource Tuner:

Download AWICONS PRO
The AWicons Pro icon management feature allows for scanning of various locations for images, which is very convenient when you do a lot of graphics editing. It has a search function that can pull icons from Windows executables, libraries and animated cursor files, ZIP and RAR archives or from the clipboard.
OS supported: Windows 98/NT/2000/XP/2003/Vista/7
All updates to AWicons (new versions and bug fixes) are free. When you buy AWicons Pro you get Free Upgrades and Support for Life.

Personal License ... US$39.95
Business License ... US$60.00
SPECIAL OFFER: Free AWicons Pro Business license with
every Icon Set purchased!

Check out our Icon Sets in the Vista icon style

Download a trial version of AWicons PRO

How to Order